Meet the Team
Our History
Sunnyside Veterinary Hospital was founded by Dr. Randall Haveman. In 2015, Dr. Haveman retired and the practice was purchased by Dr. Richard Hill. Sunnyside Veterinary Hospital maintains two experienced doctors treating small animals and exotic species. Our team consists of Certified Veterinary Technicians, Technician Assistants, Boarding and Kennel Assistants and Client Care Representatives. The team is dedicated to working together to provide the best quality care for your pets.

Over the many years Sunnyside Veterinary Hospital has been apart of the community, we have grown to have many long-lasting relationships with clients and give thanks to those who have entrusted us with their pet's care.
Veterinarians
---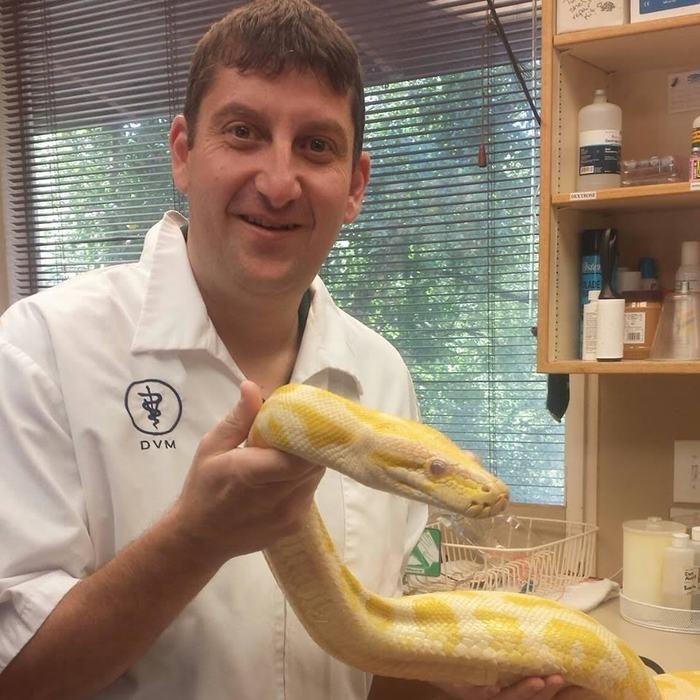 Dr. Richard Hill
DVM, MS
Dr. Hill purchased Sunnyside Veterinary Hospital February of 2015. He received his Bachelor's and Master's degree at Washington State University and graduated from University of Illinois College of Veterinary Medicine in 2010. He enjoys being outdoors and traveling with his family.
Practice Manager
---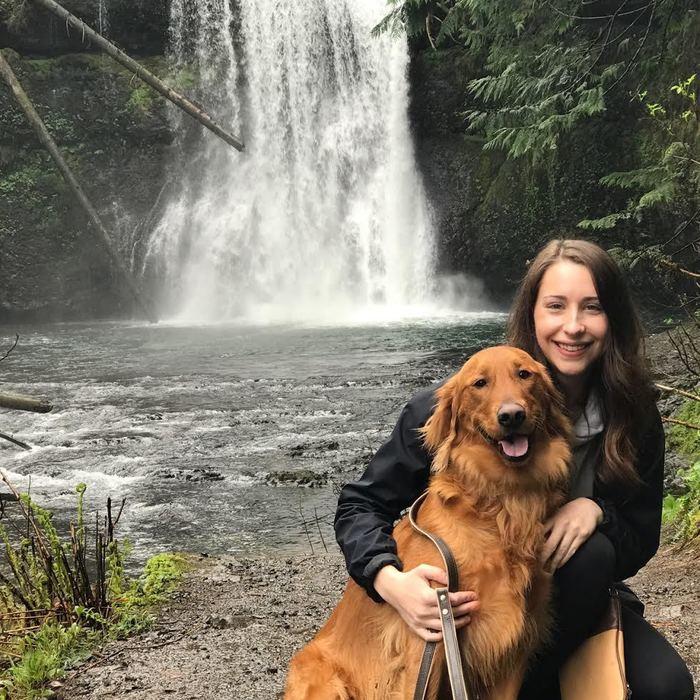 Kelli Hilbun
Kelli attended Boise State University where she studied Business and Economics. After moving back to Oregon, she took her love of animals and joined the veterinary industry. She joined Sunnyside Veterinary Hospital in July of 2016. Kelli is passionate about the protection and preservation of endangered species and is active in organizations that contribute to the cause. Kelli enjoys being outdoors and going on adventures in the great northwest. When she is not at the hospital, you can find her camping, hiking and exploring different aspects of Oregon. Although, she is best at spending time with her favorite man, Cowboy – her Golden Retriever.
Certified Veterinary Technicians
--- Dolores Galindo
CVT
Dolores has worked at Sunnyside Veterinary Hospital since February of 1988 where she was first hired on as a part time veterinary assistant while she was going to school. Dolores graduated from the Portland Community College Veterinary Technology program in 1990 and started working full time here until 1993. At that time, Dolores accepted a full time job as the lead Veterinary Technician for the Vet. Tech. program at PCC. She continues to work at Sunnyside on Saturdays as a Veterinary Technician. Dolores loves shelter work and is an advocate for homeless and neglected animals. She loves being involved in community service for the greater good and encourages students to do the same! Dolores is passionate about many things; one of which is working with the clients at Sunnyside. She is eager to help them help their animals so that the bond between them strengthens to it's utmost capacity. Dolores has 4 grown children who have given her 9 grandchildren overall. She and her husband have many rescue animals that they both care for including, hamsters, guinea pigs, tortoises, dogs and cats. She is active at the legislative level of Veterinary Technology and Medicine and is invested in education! Dolores loves to sew, cook and garden and spend time with her ever growing family!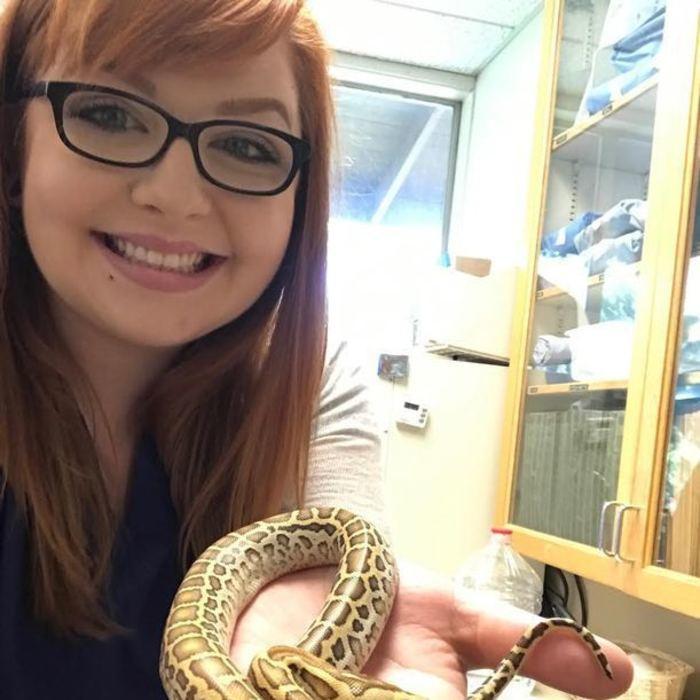 Kelsey Robinson
CVT
Kelsey has had a passion for all animals her entire life and always wanted to work in veterinary medicine. She graduated from Sanford-Brown College's Veterinary Technician program with honors in 2013. She earned her Associates degree in Veterinary Technology. She began working in general practice medicine in 2013 and started at Sunnyside Veterinary Hospital in 2014. She became Lead Technician in February of 2017. Kelsey is passionate about exotic animal medicine and loves working with reptiles. Outside of work, she volunteers with fosters for a local reptile rescue. She has a wide variety of reptiles at home and is our go to for husbandry and exotic animal care information. She also has two rescue dogs, Tank and Trixie and two cats at home. She enjoys hiking and camping with her Fiancé, Sean and their dogs; as well as watching movies and doing crafts.
Technician Assistants
---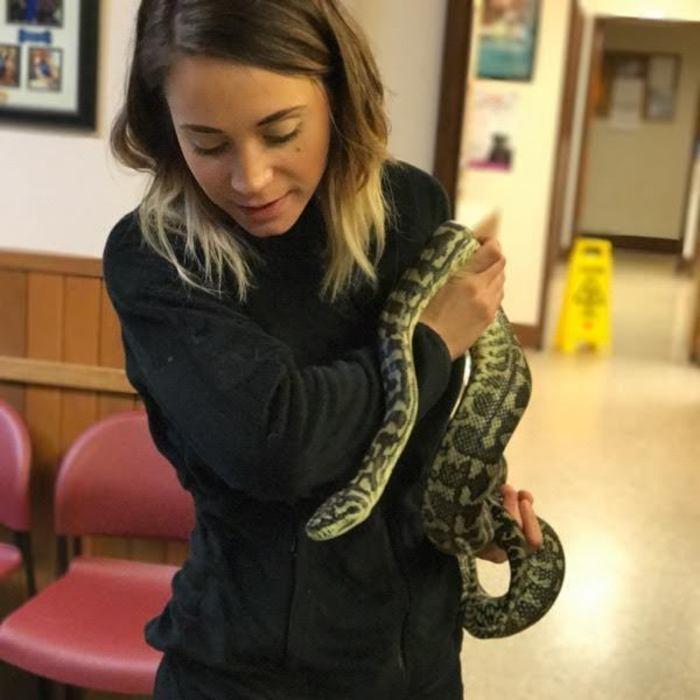 Tracie Kirkpatrick
Tracie joined Sunnyside Veterinary Hospital in July of 2016. She attended Oregon State University and received a degree in Animal Science. Shortly after graduating she worked for the Primate Center at OSHU. She then worked at the International Canine Seman Bank in Boring, OR for 3 years where she met many of the breeders in the Northwest, that she still sees today! Tracie is passionate about rescuing animals, and has collected quite a pack! She has three beautiful dogs and adopted our clinic cat, Poppy. She is invested in helping farm animals and volunteers often at different rescues in the state. In her spare time, you can find her hiking, camping and chasing after her two adorable children, Hudson and Brayden. Chelsea Wilson
Chelsea is an Oregon native who grew up in St. Paul, Oregon – home of the St. Paul rodeo. She studied animal sciences and had a passion for showing animals in the Oregon FFA. Having a passion for animals, she followed her dream to go into the Veterinary field. In Chelsea's spare time, you can see her anywhere outdoors with her Fiancé, Taylor.
Client Care Representatives
---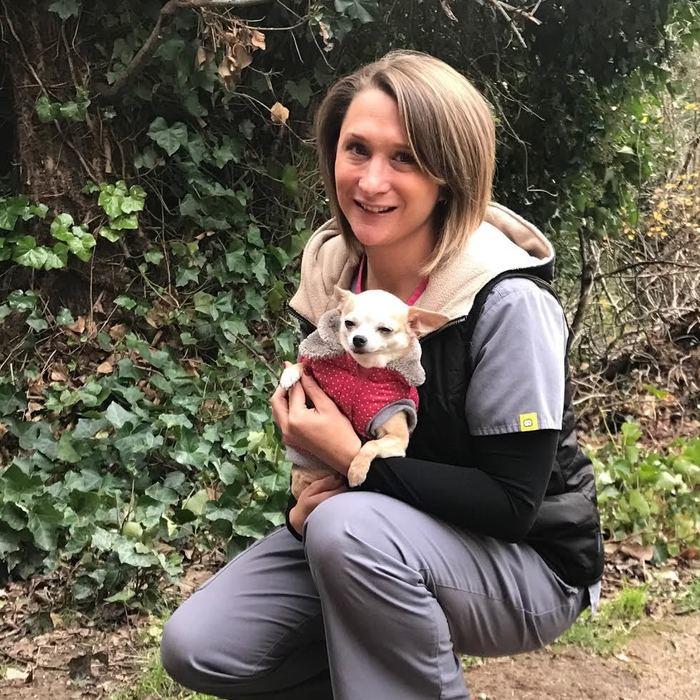 Haily Pierce
Haily is an Oregon native; she grew up in the Willamette Valley. She is licensed as a hairstylist and esthetician, but realized her true passion was working with pets. She has volunteered with the Columbia County Humane Society caring for and walking dogs and helping with events, parades and fund raisers. She has also volunteered at Sande School of Horsemanship in their horse therapy program for the disabled. In the summer, she can also be found working at Hartnell Farms, a local organic family farm. Haily's very best friend is her ten year old Chihuahua named Lyli, who can always be found right by her side.
Chief of Cuddles
---
Lyli
When you visit the clinic, you may be greeted by a sweet and well dressed Chihuahua. Lyli has been with the clinic since our receptionist, Haily started at Sunnyside. She is devoted to making sure our patients and clients are comfortable. She oversees the front desk and lobby to ensure things are running smoothly. You can often find her perched on the front desk, or in her office, also known as the Princess Palace. Napping and eating are her most favorite activities. She always encourages cuddles and for every pet to be treated like the royalty that they are!